1. Using the Messenger Auto Reply:
If you don't have a messenger chatbot yet, it's extremely easy to create one with the right skillset, but you can still create a similar experience with auto-replies and get pretty creative with it.
Here is how to set up an auto-reply in your messenger:
Step 1: From your Facebook business page, click on settings.
Step 2: Click on Messaging.
Step 3: Switch Responsive Assistant to Yes.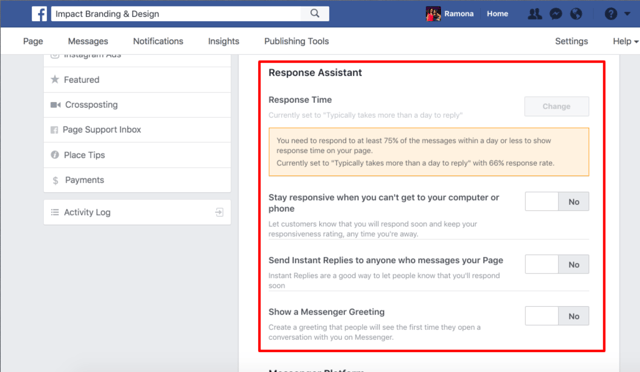 Step 4: From here, you can add a custom message.
Why is Facebook Messenger marketing effective?
You know that feeling you get when someone calls you and leaves a message? You listen to the message and say to yourself, "Why didn't they just text me?"
Facebook Messenger allows you to do just that. It's quick and interactive, but convenient.
But, what about all of those prospects and customers who don't "like" your Facebook Business page? Well, now you can pull people in by creating ads that open up a conversation in Messenger.
2. Creating Ads that open up a conversation in Facebook Messenger:
Step 1: When you set up your ad in the Ads Manager or Power Editor, you must first select "traffic" as your marketing objective. Once in the ad set, you can select Messenger as the destination for ad placement
Step 2: Under the headline and text, choose your call-to-action from the options available. While you can't yet customize your button text, you are able to customize your message, link your website, and bring them directly into their Messenger App.
Step 3: The preview on the right (above) is what will appear in your audience's newsfeeds. When they click on the ad from there, it will bring them to their Messenger app or page where they can message your business page directly.
Facebook Messenger is the most popular of the social network's secondary apps. The real-time communication it provides, with no need to refresh the feed, gives consumers instant access to your company with very little effort.
It's time to let down your guard and accept the fact that Facebook isn't just a personal networking site anymore. Businesses need to focus on making more personal connections with people on the platform and Facebook Messenger lets you do just that.
3. Using Facebook Messenger for Better Customer Service:
As of July 2016, Facebook Messenger had 1 billion monthly active users worldwide, so there's a good chance your audience is too.
If your company already uses a chatbot, it can easily be integrated with Facebook Messenger to capitalize on this existing audience.
This will help improve your customer service by meeting them someone where they already are and offering an immediate response. This may prove extremely important for:
troubleshooting
upselling
determining frequently asked questions.
4. Using Facebook Messenger for Prospecting:
Now, with the ability to target your buyer persona via ads and entice them to interact with you via Facebook Messenger, you can create a unique and engaging experience providing very quick turnaround time.
Most people today are used to getting instant gratification and responses, and it lives in their back pocket.  They want to interact with business owners who understand this; those they can communicate with via text messages and email because it's convenient and less intimidating.
That's why Facebook Messenger is so great, but engaging prospects on it isn't something that is cut and dry.
You must spend time creating the right strategy for you Facebook Business page to increase engagement first.
Draw your prospects in by:
Having Fun!
Ask enticing questions
Post interesting facts
Be helpful
Here are some examples of clever Facebook campaigns that just may do the trick.
By bringing out your personality, showcasing the people who work at your company, and engaging with your audience, you create a comfortable place of interaction between you and the people who like your page.
When you are successful with this strategy, creating strong ads to pull people into your Messenger will feel a lot less intrusive and gives you the ability to target your prospects with a more personal approach.
Coming Soon: Facebook Messenger Ads
We're not done yet. Although already available to people in Australia and Thailand, Facebook Messenger Ads are coming soon to everyone.  These are ads that will appear directly in the Messenger Apps and designed to connect with people instantly.
As a consumer, you may cringe, but any good marketer will tell you when a new channel comes out to reach your audience where they are at, you jump on it quickly -- and this is a channel we are keeping a close eye on.
We get it; why would ANYONE want to see MORE ads? If you come back to the pull versus push method I mentioned in the beginning of this article, you'll be able to achieve great results, as long as your ad message isn't annoying.
That being said, when in-app ads are rolled out for everyone, Messenger users will have the option to remove those they don't want to see. (Though, they will be replaced with a new one.)
Which, brings me back to the importance of the offers you include in your ads.
Without a lot of information out there on exactly how these will work, we can assume from the visual preview to the right, that they will appear very similar to the carousel ads in our Facebook newsfeeds today.
With that being said, retargeting using Facebook Pixels would be my best recommendation for approaching in-app ads.
Why you ask? Because you'll likely have a better conversion if the user has already visited your website and shown they are already interested in what you have to offer.
Since these ads will be placed directly in Messenger, I would create an ad that will open up the conversation directly in your messenger, as per mentioned above.